Economic crisis together with strong competitiveness from supermarkets, trade centers and flea markets have resulted in a drop in purchasing power of traditional markets in Ho Chi Minh City.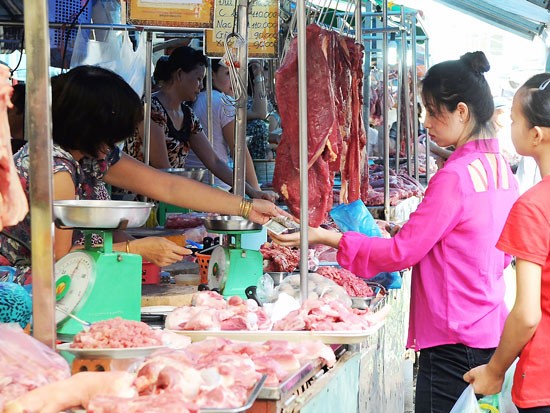 Pork stalls in Tan Dinh Market, District 1 (Photo: SGGP)
This time in previous years used to be peak trading time of An Dong Market in District 5. 10 a.m. on Tuesday morning, Saigon Giai Phong reporters found to have few customers there.
A clothe seller named Muoi said that purchasing power has kept dropping for the last several years. This year it has been down 20 percent over last year.
Stall owner Diem My who sells children clothes said earlier orders came from several provinces and cities nationwide. However the order number and value have drastically reduced for the last two years. The presence of retail customers has also tailed off.

Similar condition is found prevalent at other grade 1 markets like Binh Tay, Ben Thanh and Tan Dinh. It is even worse in grade 2 and 3 markets.
Shoppers used to stream to Pham Van Hai Market in Tan Binh District, where has been known for diversified goods with competitive prices especially clothes and pork for the last decade. At present, several stalls have to shut down.
The market has 815 business households with nearly 1,600 stalls. Tens of households have closed down since early this year, according to the market's management board.
Most stalls in the new Van Thanh Market in Binh Thanh District have closed doors. Some of the remaining ones are moderately operating.
Several traders at An Dong and Ben Thanh have tried to improve their customer services but still failed to push the purchasing power up.
According to a market analyzer, traditional markets' competitiveness has been weaker because of the expansion of modern trading modals. Customers have paid more attention to food hygiene and safety, which is not well controlled at markets. Part of traders still keeps their habit of overcharging and selling low-quality products.
A number of markets have downgraded without measures to repair and upgrade. Flea markets and vendors are popular and convenient for several customers who don't want take time at parking lots.
According to HCMC plan, the city will not build new markets any more but upgrade current ones' infrastructures, improve food hygiene and safety there, and set up the markets' managers.
The Industry and Trade Department has completed a project on implementation of a new market modal this year, in which food hygiene and safety will be ensured.

Ben Thanh Market and Hoc Mon Wholesale Market have been chosen for pilot implementation of the project, said the department deputy head Le Thi Ngoc Dao.
Food safety will be monitored and managed from the input to stalls, where products meeting VietGap quality certificate will be available.
It is a difficult project comprising several matters, especially traders' habit change, said Ms. Dao. However if relevant sides work together synchronously, it will be useful for the markets to develop in a civilized and modern manner in accordance with the economy's common trend.
The city has also worked in another project of building brand names for markets and their traders. Three wholesale markets Thu Duc, Hoc Mon and Binh Dien have had certificated brand names.