The Department of Transport in Ho Chi Minh City has said that the mid-section of the Rach Chiec Bridge on the Hanoi Highway is nearly complete and will be opened to traffic tomorrow, July 10.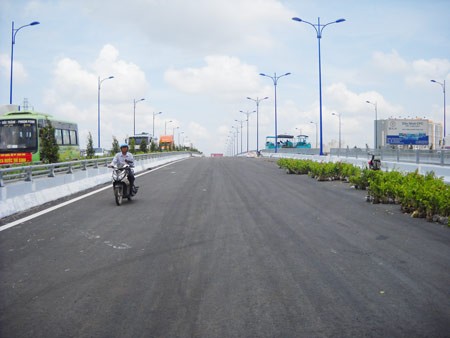 The mid-section of the Rach Chiec Bridge will be operational from tomorrow (Photo: SGGP)
Work on the 735 meter long bridge has been completed five months earlier than scheduled. The Rach Chiec Bridge consists of three separate sections, two side sections that are 9.8 meters wide consisting of two lanes each, and a one meter wide pavement for pedestrians that was added in 2010.
The mid-section of the bridge is 26.5 meters wide with six lanes, each lane being 3.75 meters wide.
The construction of the bridge amounted to a total investment of about VND1 trillion from the City's budget and built by Infrastructure Investment Corporation under the BOD contract. The capital will have to be recovered from traffic toll fee on the Hanoi Highway.
To ensure traffic order and safety after the Rach Chiec Bridge opens tomorrow, the City Department of Transport has announced measures to conduct smooth flow of traffic on the Hanoi Highway in Districts 2 and 9. Thus passengers must pay attention to the traffic guides and read the notice boards when passing over the bridge.