An hour long rain Saturday afternoon caused serious inundation at 20 spots in Ho Chi Minh City. The long-lasting issue has been found worsened partly due to several half-done drainage works.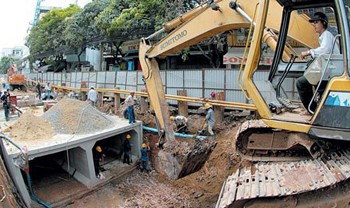 Uncompleted construction of drainage projects is said to have worsened long-lasting flooding in HCM City (Photo: SGGP)
The severe submerged streets included Bui Huu Nghia and Nguyen Huu Canh in District 1, Bau Cat and Dong Den in Tan Binh, and Chau Van Liem, Hong Bang and Hung Vuong in District 5.
The worst flooded area was around Kinh Duong Vuong Street which was dipped under 0.5 meters of waters, causing a slew of motorcycles and cars to break down.
The city's flood prevention center said that the installation of drainage pits has been completed in districts 5 and 11. However, they have yet been connected to the city drainage system, leading to the worse flooding condition in the areas' streets like Chau Van Liem, Minh Phung and Pham Dinh Ho.
In addition, the construction of flood prevention projects has blocked drainage sluices at nearly one hundred spots, putting the city in rising danger of being badly inundated when it rains.
Moreover, the contractors of several ongoing flood prevention works have left soil and stones in the drainage sluices, forcing the water to overflow onto the roads, the center said.