In response to Sai Gon Giai Phong's recent series on Ho Chi Minh City's horrific traffic jams, experts and readers have written in with suggestions to tackle the problem.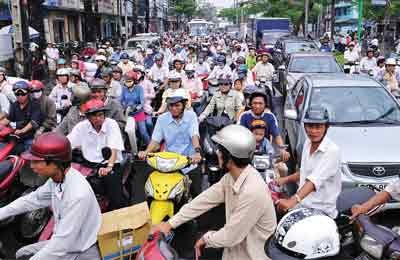 Gridlock on Hong Bang Street in HCMC's District 6 during flooding ( Photo: SGGP)
Engineer Pham Tuan, former general director of Civil Engineering Construction Corporation N.5, suggested to build more roundabouts, aimed at helping improve traffic flow.
At crossroads, traffic lights stop vehicles for a period at a time and also clog the roads because vehicles both proceed straight and turn in both directions when the lights turn green, he wrote in a letter to SGGP.
"Thus, replacing lights with circles will smoothen the flow of vehicles", he said.
Mr. Pham Tuan gave an instance of Hang Xanh intersection in district Binh Thanh which was plagued by traffic jams until 10 years ago when a roundabout was built.
"The problem has disappeared since", he said.
"More overpasses should be built over busy roundabouts to ease traffic flow", he added.
Mr. Nguyen Van Thanh, a member of the Executive Committee of the Bridge, Road and Port Union, recommened that logical separation of traffic would lessen the chaos.
"Making more streets one-way only and placing median strips to separate traffic lanes should be considered as should manually operating traffic lights and placing temporary barriers during rush hour at busy intersections" he said.
Ph.D Nguyen Xuan Vinh from HCM City-based Ton Duc Thang University advised that trimming pavements on the right of the road to create more space for two-wheelers to turn at small intersections and building separate roads for turning right at crowded intersections were also measures should be considered.

Related article:
HCMC traffic hurting country's economy
A look into HCMC's staggering traffic woes
Experts mull solutions to ease city's traffic congestion