The government has stepped up efforts to open the real estate market of late, by attracting investments in low-income housing for poorer residents; however there is still a lot to be done in this sector.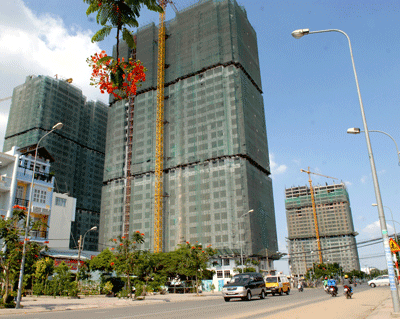 An apartment building under construction in District 8( Photo: SGGP)
At a discussion on 'Finance and Real Estate Market in 2012' organised in Ho Chi Minh City recently, Dr. Vu Dinh Anh, market guru, shared his concerns on cost of housing in the city, which was still fairly high.

According to economic experts, for successful restructuring of the real estate market, the government should support a switch from luxury housing to low-income housing, as well as warn businesses against depending too much on capital from banks.

The development of the real estate market nationwide, particularly in HCMC, has revealed various weaknesses, said vice chairman of the HCMC People's Committee Nguyen Huu Tin in a conference with related agencies on 'Proper Solutions for the Housing Programme in HCMC.'

Tin commented on a surplus of housing projects, most of which were unsuitable for the present market demand. In fact, there is a serious lack of accommodation for both white-collar and blue-collar workers as well as low-income groups or for resettlement households.

To resolve the issue, the government decided to buy back commercial housing complexes and sell to people in the social welfare group, another factor that can also help the real estate businesses in freeing inventory.

Recently, the Ministry of Construction has proposed to local authorities in Hanoi to buy commercial housing for public offices and resettlement programmes.

Dang Hung Vo, former vice minister of natural resources and environment, agreed that it was a brilliant idea to resolve the dilemma. However, a strict price assessment is needed to ensure the success of this proposal.

"The act of buying back commercial housing to save the real estate market at the moment is quite proper. Support for major real estate businesses is essential, but means to do so need to be considered carefully as the government has to assist both sellers and buyers,"  said Vo.

In response to recommendations of the Vietnam Real Estate Association, the Ministry of Construction has proposed setting up of a Bank for Construction in order to support national housing projects such as accommodation for poor people, students, low-income city dwellers.
It is hoped that this solution will become an effective channel to attract investments for the real estate market, better housing demand, and actively contribute to the development of the country.
However, many have raised their concern whether it is a sensible idea to create a new bank at a time when the country is restructuring the banking system.

According to a bank guru, Vietnam now has quite a few banks, some of which have very weak credit growth, making it very difficult in ensure their liquidity. In this time of economic depression, the government has to check the stability of the whole banking system, which is why it is not smart to found a new bank.

Moreover, there are many banks that are able to grant credit for construction purposes, hence the opening of another bank is quite unnecessary.
Agreeing with this idea, Dang Hung Vo said that it is better to set up a bank at a time of economic growth, when capital can be attracted from various sources. At the moment it is nearly impossible to draw funds from any source, to save the struggling real estate business, which is on the verge of bankruptcy.