According to Sai Gon Giai Phong Newspaper record, land price has reduced by 10-20 percent in parts of outlying 9, 12, Thu Duc, Binh Tan, Nha Be, Binh Chanh, Hoc Mon, Cu Chi and Can Gio districts.

On May 22, the newspaper's reporters saw that land brokers no longer noisily invited customers to buy land. Banners, leaflets were not delivered as much as before. The reporters spent two hours around an empty land parcel in To Ngoc Van street but did not see any broker.
Returning to Road 659, Phuoc Long B ward, District 9 where has been named the metropolis of real estate brokerage companies and centers, SGGP reporters were surprised with the gloomy and deserted scene there. Many companies closed their doors.
Phu Huu ward's area near HCMC-Long Thanh-Dau Giay Expressway fell in the same situation. Many residents' houses and shops removed land brokerage boards of housing land projects.
Owner of a coffee shop in Bung Ong Thoan street, District 9 said that local residents had earned bread by acting as a go-between customers and property companies.
Land prices have mitigated from VND26 million to 24 million a square meter in the area for the last couple of days.
Some plots in the alley of Bung Ong Thoan street has seen the price drop by 20 percent, from VND22 million to VND17-18 million a square meter. The price of plots along large streets have remained unchanged.
After the media published information that rural districts are not qualified to upgrade into urban districts, land price in Binh Chanh has sloped without brake to the level in early 2017.
Mr. Dien from Phong Phu commune said that the district returned to tranquility during the last weekend. Previously, automobiles traveled in great number and customers continuously asked to buy land.
Local no longer saw coaches transporting delegation of customers to the district to buy land, he said. Many land brokers have disappeared while many investors have faced hardships.
Formerly, brokers bought agricultural land at the price of VND2 million a square meter and offered for sale at double price. They pushed housing land price from VND7 million to VND16-22 million a square meter.
Mr. Dien said his family sold two land plots to a customer who has been crying for losing VND2 billion investing in the properties.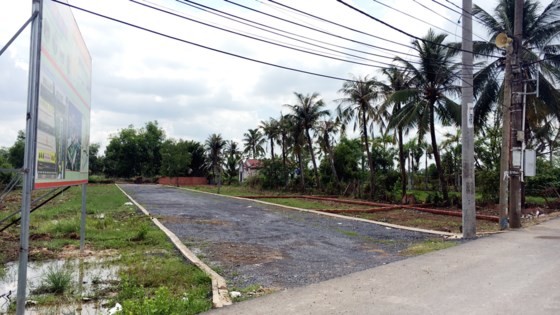 Land for sale in Long Truong ward, District 9 (Photo: SGGP)