Completion of underground parking lots in Ho Chi Minh City would certainly help ease traffic woes, however, investors are lamenting being buried under cumbersome administrative procedures.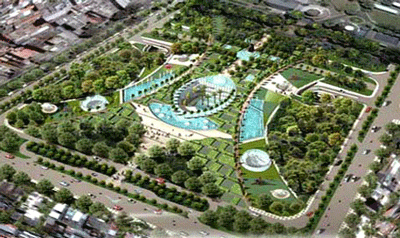 Artist's impression of an underground parking lot on Le Van Tam Park in District 1
Although the Investment Development for Underground Space Corporation (IUS) was given license to build an underground parking lot in Le Van Tam Park in District 1 of Ho Chi Minh City in August 2010, the project is lying on hold due to various delays in administrative procedures.
In 2010, IUS held a ground-breaking ceremony for the project on an area of 103,225 square meters, which would have five floors and parking facilities for 1,200 cars and more than 2,000 motorbikes.
Le Tuan, director of IUS, is upset at this delay as he pays US$40,000 a month to the contractor who spends a whole day twiddling his thumbs as there is no work. Bureaucratic delays by related agencies are causing files and documents to pass from one office to another without any concrete results.
The underground parking lot in Trong Dong Stage in District 1 is also facing a similar fate although it was licensed in February 2010 by the HCMC People's Committee.
Le Tuan said the delay has pushed the project's initial estimated cost from $70 million to nearly $200 million and a loss of credibility for the investor.
Nguyen Thi Bao Quynh, deputy director of the Dong Duong Group, investor of parking lots under Trong Dong Stage and Hoa Lu Stadium, said it took two years to verify the land lease cost although the company had provided many documents to related agencies.
Currently, Dong Duong is waiting for the Department of Natural Resources and Environment to complete procedures of land allocation and a license from the Department of Construction.
In many meeting with the HCMC People's Committee, investors of parking lots complained of delays in completing procedures, while city   leaders said they had ordered the Department of Transport to help investors removing difficulties.
On their part, the Department of Transport said it had petitioned HCMC People's Committee to call for help from the Departments of Finance; Natural Resources and Environment; and Construction, to complete all the ongoing projects.