Demands for infrastructure in Ho Chi Minh City are huge while the State budget is very limited, as such city leaders have worked on open-door policies to attract social investment in building basic facilities. Their efforts, however, have seemed futile, especially when the city's own bureaucracy is partially to blame for limited private investment.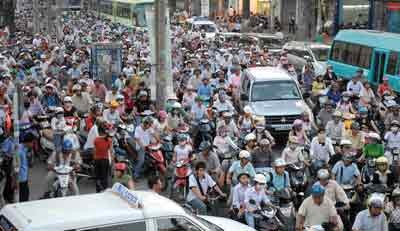 Better traffic infrastructure may help solve such jams in rush hours (Photo: SGGP)
The happiness of Nguyen Thanh Thai, general director of Phu My Bridge BOT, which connects districts 2 and 7, on the bridge's inauguration fell a little when he recalled the stress of registering for constructing the bridge.
Being an overseas Vietnamese and having a prosperous life in France, he decided to return to Vietnam do some meaningful things for the country.
He returned in the early 1990s when the city called for social contributions of all sectors to the nation's development. 
He and those who had same desire decided to set up Phu My Bridge BOT Company  to tender for the bridge. While the Ministry of Finance and the city administration acted as a guarantor for the company, the general director of the HCMC Urban Development and Investment Fund created difficulties for the company.
Despite this construction was completed four months earlier than scheduled.
As traffic congestion in the city has got worse over the years, the city People's Committee called for underground parking lots.
In response to the appeal, the Underground Space Development Investment Joint Stock Company (IUS) proposed building one parking lot in Le Van Tam Park in District 1. It was the first of its kind and the proposal was approved by the Prime Minister in 2005.
Everything seemed to be going well so IUS announced construction would start in September, 2006. It was then that IUS faced red tape.
By the end of 2006, the Ho Chi Minh City Transport and Public Works Department (TPWD) and the Ministry of Transport were at loggerheads with other agencies on connection of the underground parking lot and the planned metro.
In addition, disagreement between the city and TPWD allowed IUS to remove trees but later the Tree Park Company, part of TPWD, said the plan to remove tree was not allowed as some trees could not re-grow.
Recently, although the Ministry of Finance granted an investment license to IUS for the project, UIS management said they are waiting for a BOT agreement from the city People's Committee and a construction license.