Every cloud has a silver lining. A recent government decision to ban motorbikes from being parked on pavement in downtown Ho Chi Minh City, intended to help pedestrians and improve the city's landscape, has resulted in a parking crisis.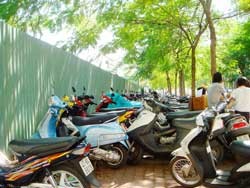 A parking area on Phan Van Dat Street at 8.30am Monday
Yesterday, one week after the deadline, all parking places in District 1 decided to cut parking by one third.
At 8am, a dozen men at a parking lot in front of the Cao Thang Technical College only stood to drive away any approaching motorists trying to find a place to park their bikes, even students in uniform.
Though the school has an underground parking lot, it can accommodate only 400 bikes and its students have to seek parking elsewhere.
"This parking lot has lost its license. We will only work until the end of this month," Mr. Hoang, a man working there told Sai Gon Giai Phong.
Hoang also said his lot used to hold 300 bikes with 3 rows on each pavement but now it only takes in 200.
In Vietnam, it is common for a certain pavement section to be cordoned off to be turned into parking places for fees.
Prior to the ban, sidewalks on both sides here would be stuffed with bikes belonging to students and staff working at nearby offices, leaving absolutely no room for pedestrians.
The parking lot at Mac Thi Buoi - Phan Van Dat, where hundreds from the Me Linh Point, Renaissance Riverside and other buildings nearby park daily, has also been reduced by one third.
"Though it is 8.30 now, we have refused over 150 bikes," a man said.
Scrambling for a place
According to Mr. Duc Minh, of the Mai Linh Corporation's IT department, at 9.30 this morning—nearly two hours after he arrived there—he still could not find a parking area even after approaching 5 parking lots.
"If this continues, I may be sacked for tardiness."
Ms. Lam Thanh Nguyet, working in the Bitexco Building said she used to park on the pavement nearby but recently, was rejected. Many have to move to areas near Bach Dang Park, a little further away, she added.
Ms. Tam, of a law firm in the Bitexco, nearby said for a week she and her husband have to share one motorbike.
Ms. Huynh Vinh at the Me Linh Point Building on Ngo Duc Ke street told Sai Gon Giai Phong she has switched to buses to avoid the time consuming effort searching for parking.
The parking lot on Nguyen Du Street is no exception. Staff here just accept bikes from regular and familiar customers.
They advise drivers to go to the Pediatrics Hospital No 2 where hopefully there may be room left.
Pham Van Tan, deputy head of the Ben Thanh Market, HCMC's most famous landmark, said this place has 6,000 registered vendors and 5,000 customers visiting daily but there are only 4 or 5 parking lots nearby able to accommodate just 200 bikes.
The new parking measures will surely affect local businesses.