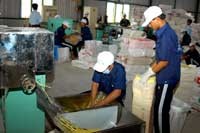 Ex-drug users work at the Tran Boi Production ad Trading Company after recovering from their addictions
Nhi Xuan Industrial Complex in Ho Chi Minh City's Hoc Mon District has employed over 600 rehabilitated drug addicts in the two years since starting up and plans to take on 5,000 in the near future, an official said.
Nhi Xuan occupies 75 hectares of Xuan Thoi Son Commune and comprises an industrial park and a residential area housing 8,000 people. Its investment capital is VND395 billion (US$24.8 million).
Besides housing, the residential area contains classrooms, a medical clinic, an entertainment center and recreational facilities.
The employment of ex-drug addicts and training them is a pet project of the Ho Chi Minh City People's Committee.

The Nhi Xuan official added that the city would create favorable conditions for investors to build infrastructure and factories in the zone.
Mr Do Cong Khanh, Director of Diem Khanh Garment and Textile Company, the sixth enterprise in the complex said, "More than 160 employees of the company are former inmates of the city's drug rehabilitation centers".
"400 more such people will be recruited by the end of this year", he added.