The summary conference on 10 years of campaign among the religious communities to take part in public activities for security protection in Ho Chi Minh City was held on May 30.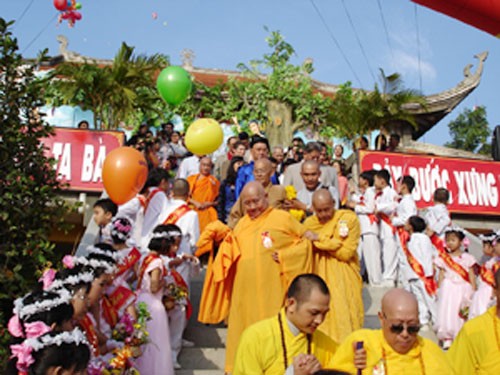 Buddha's Birthday is an annual activity attracting the attention of many Buddhist clerics and followers (Photo: U.Phuong)

According to HCMC People's Committee, the religious communities in Ho Chi Minh City have provided much valuable information to the local authorities and helped the police deal with many cases to ensure order and security.
In District 1 and Tan Binh District, the religious inhabitants gave 5,018 tipsoffs and helped investigate 375 criminal cases leading to around 500 criminals arrested and VND4 billion paid back.
Many dignitaries also took part in social activities such as Funds for the Poor, taking care of drug addicts, people with HIV/AIDS, blood donation.
Addressing the conference, Vice Chairman of the HCMC People's Committee Nguyen Thanh Tai praised the contributions made by the religious clerics and followers in the city's security protection.
Thanks to meaningful activities of the religious communities, solidarity between religions has been consolidated, and the target of a prosperous society seems to be nearer.

During the past 10 years, more than 9,700 individuals and organizations have been commended for their excellent contributions to national defense.