Over the last two days the ongoing repair work on the Binh Dien Bridge in Binh Chanh District in Ho Chi Minh City is causing much chaos and huge traffic jams during peak hours, inconveniencing all commuters.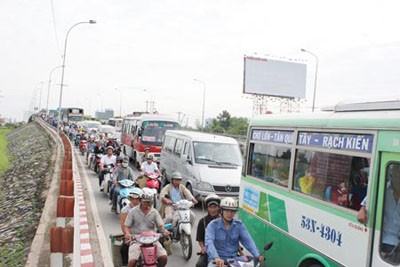 Ongoing repair work on Binh Dien Bridge is causing huge traffic jams along Highway 1A in Binh Chanh District in HCMC (Photo: SGGP)
Binh Dien Bridge has two sections, Binh Dien 1 and 2. When repair work is underway in Binh Dien 2, then all traffic is diverted onto the Binh Dien 1 section.
Binh Dien 1 is divided into two lanes; one lane for vehicles coming from Long An Province to HCMC and the other for traffic moving in   the reverse direction.
Heavy or overloaded vehicles sometimes have to wait in line that can often stretch across three kilometers from An Lac roundabout to Nguyen Van Linh-Highway 1A Crossroad.
Although workers on the bridge try their best to guide the flow of traffic, chaos and congestion prevails in peak hours. Recent flooding caused by high tide or sudden rainfall has worsened traffic congestion along Highway 1A.
The Urban Traffic Management Zone 4, under the Department of Transport, who has undertaken the task of repairing the Binh Dien Bridge, has met with concerned authorities to discuss ways to ease traffic flow in the next few days.