Ho Chi Minh City's Hanoi highway is always congested and extremely polluted due to the constant flow of vehicles into and out of the city, said a recent report by the city's Traffic Safety Board.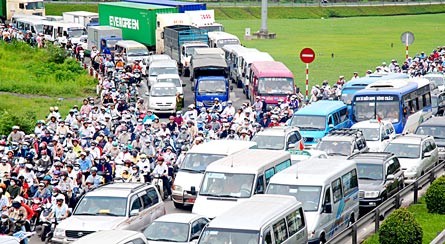 Traffic jams occur everyday on Hanoi Highway in Ho Chi Minh City. (Photo: SGGP)
A two-hour traffic jam occurred on July 28 at 7am in Rach Chiec Bridge to Saigon Bridge, with a large number of cars and motorbikes jammed.
People living nearby suffer daily from exhaust fumes and dust.
According to the report, since the beginning of the year the city has had around 30 severe traffic jams lasting more than 30 minutes, with some lasting for seven to eight hours. Up to eight of these occurred on the Hanoi Highway.
On the section from Sai Gon Bridge to Suoi Tien Cultural Park, a heavy number of vehicles always get stuck at intersections, such as Cat Lai, Binh Thai, Thu Duc, Suoi Tien Park, Vietnam National University and Tan Van crossroad.
The most severe traffic jams always occur in Cat Lai due to the huge numbers of cars often going in and leaving the port everyday.
In addition, the East-West highway project has gotten underway at Cat Lai T-junctions, adding to the already severe traffic problem.
The most dangerous section of the highway is near Suoi Tien Cultural Park, in which not only traffic jams are a common feature, but also accidents are numerous.
The traffic situation near Suoi Tien Cultural Park becomes more chaotic when many buses and minibuses pick up passengers and cars from HCMC's eastern regions and central highlands come to the city.
According to Ho Chi Minh City Infrastructure Investment, the Hanoi Highway in HCM City will be expanded from Sai Gon Bridge to Tan Van intersection, going through districts 2, 9, Thu Duc up to Di An Commune, Binh Duong Province.
The total cost of the expansion will be VND2.54 trillion.
The road from Sai Gon Bridge to Binh Thai intersection will be widened by 153.5 meters, the part of road from Binh Thai to Tan Van will be widened 113.5 meters.
However, until now, land clearance is still facing difficulties.
Officials expect traffic jams to continue along the Hanoi Highway for sometime, with the worst jams occurring at the rush hours of 6-7am and 8-11pm. Traffic jams may continue from 11pm until the following morning.
The numerous and severe traffic jams have been blamed on the sluggish progress of the installation of water pipes.