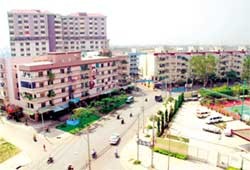 An apartment building for resettlement in District 4, Ho Chi Minh City. (Photo:VD)
Ho Chi Minh City must give priority to relocation of those citizens who have been behind the urban planning schedule and provide more land for resettlement, said a senior official at a recent meeting.
The Ho Chi Minh City People's Committee held a meeting on Wednesday to discuss necessary remedies for the sluggishness in land compensation and resettlement for its citizens in some project areas during the process of urban planning and development.
Speaking at the meeting, Mr. Le Thanh Hai, secretary of the Ho Chi Minh City Party Committee, stressed that land with ready infrastructure for relocation must be handed over to citizens by this year-end so that they can start their house construction soon and finish it by June 30, 2007 as planned.
Mr. Hai also suggested that the city should organize a steering committee to promptly solve problems arising during the resettlement process.
Chairman of the Ho Chi Minh City People's Committee Le Hoang Quan urged relevant units to have a conclusion on building-plot costs and housing allocation for citizens' resettlement by November.
A recent report made by the city's People's Committee said currently over 4,000 households have been moved out of the cleared sites but still waiting for the city's support in resettlement.