Ahead of the temporary opening on February 3 of the Ho Chi Minh City-Trung Luong expressway, SGGP reporters took a trip to the Trung Luong T-intersection in Tien Giang Province to observe its quality and operational safety.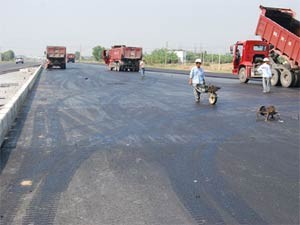 A section of the HCM City-Trung Luong Highway was asphalted last week. Experts have said more people need to be educated about traffic regulations on highways to protect all travelers when the highway is put into use ahead of Tet. (Photo: VnExpress)
While the developer says the highway is ready for its short-term opening, some have expressed unease over how safe the road is for some passengers.
The speed limit is set at 120 km per hour and accordingly, it should take just 30 minutes to reach Trung Luong from HCMC. The highway developer, the My Thuan Project Management Unit, said it has been working to ensure this is possible.
Only high-speed vehicles are permitted to drive on the highway. Those automobiles that can travel no faster than 70 km per hour, and those loaded with goods at a height of more than 4.2 m and a width of over 2.8 m are prohibited from driving on the roadway, the unit said.
Instead, the highway offers seven tunnels and five overhead passes to serve pedestrians, bicycle riders, and those using lower-speed motorized vehicles, it said.
As of January 17, however, the low-speed alternative routes had yet to be completed. As a result, several low-speed travelers and pedestrians had no choice but to use the high-speed expressway, SGGP reporters observed.
Moreover, the highway's small number of tunnels and overhead passes is less than convenient for low-speed travelers, as there is just one tunnel or overhead-pass exit for every 4 km of the highway.
A number of local residents have expressed concern about such issues, while construction units said they have asked local authorities to deal with the grievances. They have also advised people not to travel on the road if they are at all uncomfortable with it, highway workers have said.
Experts have said more people need to be educated about traffic regulations on highways to protect all travelers, as well as to keep the HCMC-Trung Luong and other highways in the country running smoothly.
The HCMC-Trung Luong Highway is 62 km long and has eight lanes. Total investment in the project is over VND9.88 trillion (US$535 million) from the Bank for Investment and Development of Vietnam (BIDV).
When the expressway is put into use on February 3, under a directive from the Prime Minister, it is hoped that traffic congestion will be eased on National Highway 1A ahead of the upcoming Tet (lunar New Year) holiday, which falls on February 14 this year.