All 128 flower markets was opened in Ho Chi Minh City on Wednesday, the 23rd day of the last lunar month every year or the day of farewell to the Kitchen Gods , decorating the city with plentiful varieties of colorful flowers and ornamental plants.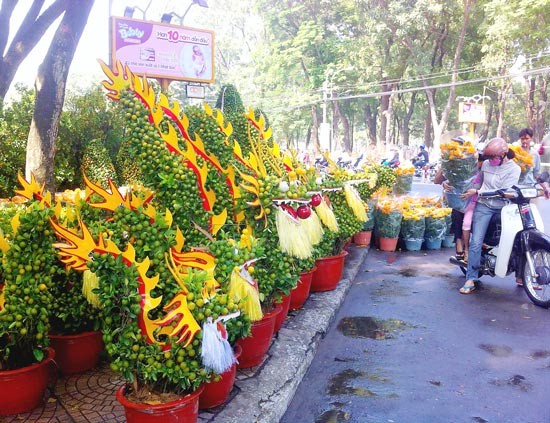 Flower market at Gia Dinh Park (Photo: SGGP)
Hundreds of flower and ornamental plants from many provinces and cities nationwide have been displayed at three city-level flower markets at Gia Dinh Park, September 23 Pak and Le Van Tam Park.
Customers have flocked to 500 stalls of a flower market at Gia Dinh Park to buy peach blossom trees at VND1-5 million each.
Stall owner Nguyen Thu Anh said that she sold about 100 peach blossom trees a day. Many customers have chosen the flower because of cool weather which is advantageous for the flower to blossom.
Bonsai kumquat trees are well sold with the prices swinging from VND1-14 million.
September 23 Park comprising up to 977 stalls has been packed with orchid, daisy, rose, apricot blossom, marigold, dahlia and paper flower. Le Van Tam Park flower market has 200 stalls.
Besides the three main markets, there are 125 spots selling Tet flowers in districts. The most crowed is Thu Duc District with 19 spots and District 10 with 16 places.
Many products have been boated from flower villages in the Mekong Delta provinces of Tien Giang, Ben Tre and Dong Thap to Binh Dong wharf, District 8.
Most of them landed at the wharf on the 23rd day of the 12th lunar month. The best selling have been ornamental yellow apricot and kumquat trees priced from VND200,000 to VND6 million each.
Yellow apricot trees have been available at gardens along Pham Van Dong Street, Thu Duc District. The prices are steady or 20-30 percent down over the same period last year.
Thanh Thai Street in District 10 is colorful with many kinds of flowers including orchid, frangipani, cockscomb, petunia, Indian head ginger, poinsettia, daisy and pink.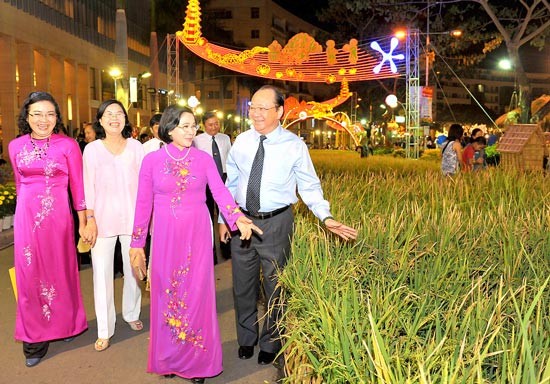 Ms. Nguyen Thi Thu Ha (2nd, R) visits a rice field at Phu My Hung spring flower fair, district 7 (Photo: SGGP)
The price of an orchid stem swings around VND200,000 and ornamental blue dragon pot ranges from VND400,000-VND500,000.
Many kinds of Da Lat orchid varieties are sold at VND700,000 a stem in Ngo Gia Tu and Ngo Quyen Streets, District 5.
Tet flower market have been organized across the city to facilitate residents' shopping and limit traffic jam as many people concentrate in a flower market especially in the city center ahead of Tet.
Last night, deputy secretary of HCMC Party's Committee Nguyen Thi Thu Ha and Deputy Chairman of the city People's Committee Hua Ngoc Thuan attended the opening ceremony of a spring flower fair at Phu My Hung new urban area, District 7.
The seven day fair building images of Vietnamese agriculture and showcasing traditional cultural values will end on February 17.