Ho Chi Minh City's top party officials went south to Hau Giang province on Sunday for a nostalgic visit to what was once a hotbed of resistance in the war against the Americans.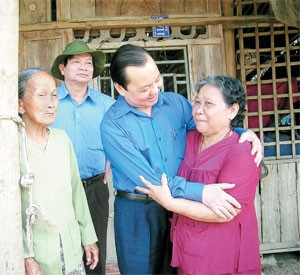 HCMC Party chief Le Thanh Hai (L) gives a hug to a local resident in Hau Giang province on Feb 4

Party chief Le Thanh Hai and his fellow travelers took along a swag of presents for the local residents who had fought for the cause all those years ago.

Mr. Hai expressed his profound gratitude to the families who had sheltered him and his comrades and kept them safe from the enemy right up until the cessation of hostilities in 1975.

On the same day, vice chairman Nguyen Thanh Tai of the city's party committee paid a visit to the Chinese community in District 11 and handed out gifts for Tet (the lunar new year) to poor residents of the area.