The pollution in the Dong Nai's riverhead has worsened to alarming levels since 2006, Ho Chi Minh City officials warn.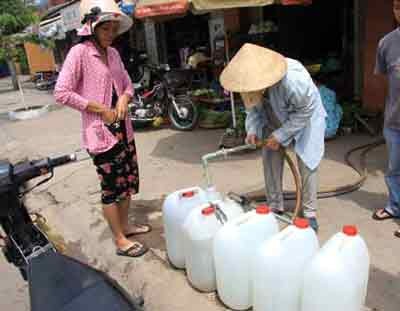 People may use polluted water if the government has not worked out plan to treat stagnant river water
Truong Khac Hoanh, deputy director of the Thu Duc Water Plant (TDW) which supplies 150,000 cubic meters to Districts 2, 4, 7, 9, and Thu Duc, said a survey by his company found that the Chemical Oxygen Demand (COD) concentration has increased more and more and is showing no signs of abating.
Deputy director of the city's Preventive Health Department, Le Van Nhan, said the water in Dong Nai River is also polluted by metals. Its iron content, for instance, is 1.19 mg per liter against an allowed level of 1 mg.
Mr. Hoanh was concerned that if the pollution continues to worsen, the TDW cannot treat the water any longer and would have to shut down.
It is hard to ensure that wastewater discharged by industrial parks and companies conform to environmental norms since the pipes carrying it are situated under the ground, he said.
The TDW has reported the problem to concerned agencies, pointing out that wastewater from industrial zones in Dong Nai and Binh Duong is the cause of the river's pollution.
The plant has to resort to using more and more chlorine and other chemicals to treat the water, which may cause health problems to users, he warned.