The Department of Transport in Ho Chi Minh City announced the city finished 109.7 kilometers of road, accounting for 52.2 percent of the 210-kilometer target.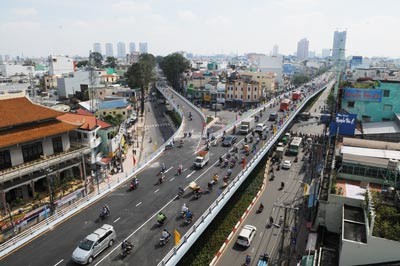 A steel flyover at Cay Go roundabout in Ho Chi Minh City opens to traffic on October 19. It is expected to offer a traffic relief to the city's congested gateway (Photo: SGGP)
Unfavorable factors such as natural disasters, unpredictable weather, and the economic recession in 2011 made it extremely hard to complete the goal on schedule, according to the department.
Moreover, the government will implement plans on February 24 to control inflation, guarantee social welfare, and cutting investment in public construction.  The guidelines will focus on key constructions rather than loosely investing in all.
The density of roads in a square kilometer of land is currently 1.82 kilometers per kilometers squared.
About 151.2 kilometers of roads will be finished by 2015 which will increase density of roads in a square kilometer at 1.85 kilometer per kilometer squared.
The city has recently constructed 47 bridges, completing 97 percent of the target.  The city is expected to build 61 bridges by 2015.