A new road linking Ho Chi Minh City with the East Sea through its coastal district of Can Gio opened to traffic January 26.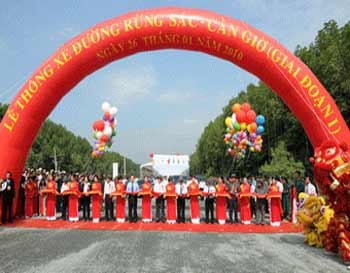 Rung Sac Road between HCMC and its coastal district of Can Gio opened partially to traffic with this ceremony January 26 (Photo: Cong An TP. HCM)
Phase 1 of the 31-kilometer Rung Sac (Sac Forest) Road has been completed with three of its six lanes in use now.
The road, whose construction began in 2008, is expected to cost VND1.42 trillion (US$76.88 million) when its second phase is completed at the end of this year.
Speaking at the inauguration ceremony, President Nguyen Minh Triet said the road is the city's strategic gateway to the East Sea and would help boost the social and economic development of not only Can Gio District but also the city itself.
He urged city authorities to continue investing in the coastal district's infrastructure, including construction of the Binh Khanh bridge.
They should develop Can Gio's ecotourism potential and its marine-based economy and protect its preventive forests and biosphere reserve.
On the same day he also attended a groundbreaking ceremony for a VND882 billion ($47.75 million) water supply system for Can Gio.
It will be carried out in two phases and is expected to be completed by December 31 this year, supplying 44,000 cu.m of water daily to the district by 2015 and double that by 2025.