A robber drowned after he jumped off the Bui Huu Nghia Bridge in Binh Thanh district (Hochiminh city) while trying to escape the police on Friday, VnExpress reported.
At midnight (1:30am on September 2) , after drinking much alcohol, Dinh Manh Hung, 19, and his accomplice Nguyen Hue Hung, 18, stopped Nguyen Manh Hai, who was driving a motorcycle on Bach Dang Street, to beg VND100,000 from him.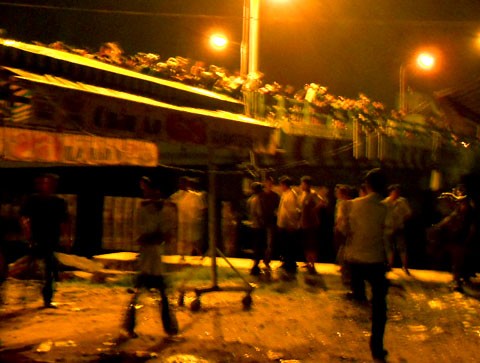 People gathers on Bui Huu Nghia Bridge to see the unlucky robber who was found drowned.( photo VNExpress)
Failing to get the money from Hai, they then snatched his wallet and they stole all the money inside.
Hai shouted for help and mobile policemen of Binh Thanh district, who were patrolling the street at that time, chased after the robbers..
The police managed to catch them, pushed down their motorbike and arrested Hue Hung. Meanwhile Manh Hung tried to escape. The police fired two shots for warning. Manh Hung hastily and carelessly jumped off the bridge down to Thi Nghe cannel. However, he drowned later