The sustainable cooperation between Viet Nam and the Republic of Korea would not be possible without positive efforts of both governments and their peoples, said Consul General of the Republic of Korea in Ho Chi Minh City Min Young Woo on Wednesday.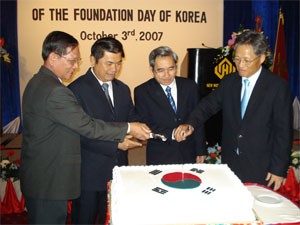 Consul General of RoK Min Young Woo (R, 1st) and HCMC Vice Chairman Nguyen Trung Tin (R, 2nd) cut birthday cake at the 4339th anniversary of the foundation day of Korea on Oct 3 (Photo: Thuy Hang)

The statement was made at a banquet held by the Consulate General of the Republic of Korea in Ho Chi Minh City to celebrate the 4339th anniversary of the foundation of Korea.
Among the distinguished guests present were Vice Chairman of the HCMC People's Committee Nguyen Trung Tin and other city officials.

Since Viet Nam and the RoK established diplomatic relations in 1992, bilateral ties have seen considerable development in many areas like trade, culture, tourism, education, and training.

The RoK is now Viet Nam's biggest investor with a total investment capital of US $10.6 billion. So far this year, RoK's firms have invested in 106 Ho Chi Minh City-based projects totaling US $640 million, becoming the city's biggest foreign investor.

At the moment, some 1,400 RoK's firms are doing business in Viet Nam (1,000 of them in Ho Chi Minh City, providing over 30,000 jobs). The number of Koreans and Vietnamese living and working in the other's respective country has reached 60,000.