President of the Republic of Korea (RoK) Park Geun Hye received Ho Chi Minh City Party Committee Secretary Le Thanh Hai during his visit to the country yesterday afternoon.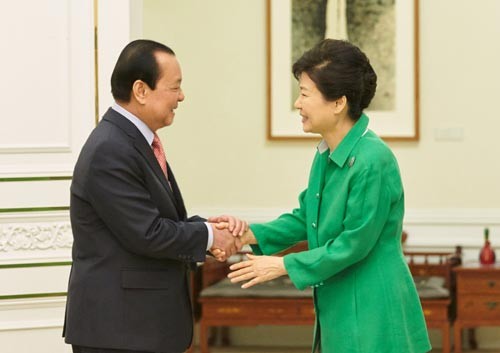 Secretary Le Thanh Hai (L) meets with Rok President Park Geun Hye (Photo: SGGP)
At the meeting Ms. Park proposed the secretary to continue assistance to Korean businesses to attend in key traffic infrastructure projects under implementation in the city.
The two countries made cooperation pledges in many large-scale urban infrastructure projects during the visit of General Secretary Nguyen Phu Trong to RoK last year, she said.
The secretary affirmed that HCMC has always eased the attendance of Korean investors in big infrastructure projects of the city.
HCMC always welcomes Korean investors and gives them more incentives besides common preferential policies, Secretary Hai said.
Ms. Park expressed her support to collaboration relations between HCMC and cities of Busan, Daegu and other provinces and cities of South Korea; especially between HCMC and Korean firms.
She appreciated diversified activities in celebration of the 20th anniversary of HCMC and Busan friendly cooperation, such as 'HCMC Day in Busan 2015' which has been hosted during the secretary's visit.
Secretary Hai conveyed good wishes from Vietnamese Party and Government leaders to the president and showed their determination to comprehensively and effectively develop the two countries' strategic partnership.
He praised the recently signed VN-RoK Free Trade Agreement, considering it as an important basis to boost investment and trade activities benefiting both sides.
Mr. Hai hoped that President Park Geun Hye would continue aiding the Vietnamese community who are living and working in her country and encouraging South Korean agencies and enterprises to boost up cooperation with Vietnam and HCMC.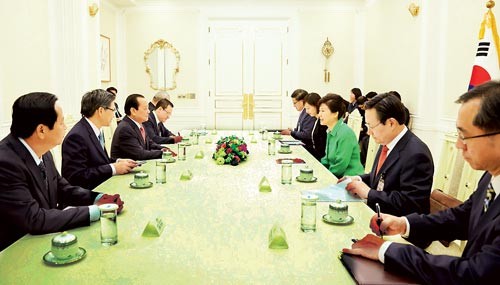 Ms. Park receives HCMC delegation led by Secretary Hai on May 29th during his visit to Rok (Photo: SGGP)
On the same day, a meeting between HCMC and Daegu businesses took place with the attendance of Secretary Hai, Daegu city deputy mayor Lee Kyundong, and Vietnam's Ambassador to Rok Pham Huu Chi.
Mr. Hai also met with Daegu city mayor Kwon Young Jin and the two sides reached an agreement to set up friendly cooperation relations between the two cities.
Mayor Kwon said that about 7,000 Vietnamese have been living and working in his city that has 2.5 million inhabitants and is well-known for its fibre industry and 250 out of 3,300 Daegu businesses have done business in Vietnam.
Therefore, the two cities' friendly cooperation will facilitate the two sides' development in many fields including education, culture and economics, he added.
After the talk, HCMC People's Committee and Daegu administration representatives approved a cooperation program for the phase 2015-2020.

Related articles:
HCMC calls on Korean investment in five key sectors at Busan seminar
Korean groups want to further investment in Vietnam