The Ministry of Agriculture and Rural Development (MARD) has allowed Huynh Gia Huynh De Company in Ho Chi Minh City to raise ducks in conditions of ensuring no bird flu, and slaughter the animals, selling the safe meat.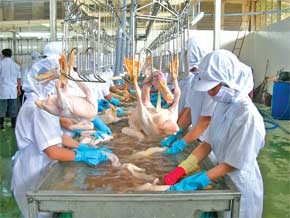 Huynh Gia Huynh De Company workers butcher poultry at the company's factory in Binh Chanh District
The Sai Gon Giai Phong newspaper has interviewed Mr. Chau Nhut Trung, vice chairman of the company, about the project.
Could you introduce the project?

We are raising ducks at big-sized farms in the neighboring provinces of Tay Ninh, Dong Nai and Binh Duong and will bring the ducks to our butchering factory in Ho Chi Minh City's Binh Chanh District. We carry out the project on the trial basis from April 2006 to February 2007.
MARD asked us to observe current anti-bird flu rules and poultry slaughtering regulations. If bird flu breaks out at our poultry farms, we have to kill all ducks and stop the project without Government's compensation.
What are current developments?
Right after MARD's permission, we began the project at 50 farms in Tay Ninh, Binh Duong and Dong Nai provinces. Each farm covers at least 2,000 square meters of land and has 2,000 to 10,000 ducks. We supplied them with young ducks provided by the Vigova Duck Breeding Farm of the Husbandry R&D Center of the National Husbandry Institute.
We also supply animal feed. We designed coops at the farms to separate it from the neighborhoods, and provided farming techniques. Young ducks are all vaccinated.
Animal health officials are always present at the farms to supervise activities and to prevent strange ducks from joining our herds.
How long is a farming season?
Sixty days, according to our contracts with the farmers. However, with our technique, feed and young ducks, it takes just 49 days and each mature duck can weigh 3.5 kilo or more. We can save 11 days.
When will your company conduct the first meat supply, and how much meat a day?
MARD allows us to raise 1.5 million to 2 million ducks from April 2006 to February 2007. Our first meat supply will come in the next two months. We will be able to supply 6,000-7,000 slaughtered ducks a day, about 50-60% of the current demand.
How much can the farmers earn?
We'll pay to them VND14,500-15,000 for a kilo of live duck. They get VND4,000-5,000 profit a kilo. A mature duck weighs 3.5 kilo on average. Say, a farm has 2,000 ducks a season, so the total profit is not small. I must add that a season will actually last 49 or 50 days, not 60 days as designed, so the real profit could be higher.
What is your company's selling price?
We will sell at VND38,000-40,000 per kilo. The current market price is VND47,000. Our price is equal to that before bird flu broke out the third time in Viet Nam. To ensure a price lower than the current market price, we have contracts with Vigova to buy young ducks, and with companies Vifoco and Long Chau to buy animal feed at stable prices in the long run.
When the farmers' ducks do not reach 3.5 kilos, will your company buy them?
With the young ducks, feed and technique supplied by us, we expect no ducks of less than 3.5 kilos.
How will your company do the slaughtering and meat distribution?
We'll transport the qualified ducks to our slaughtering factory in Ho Chi Minh City's Binh Chanh District. We'll build another factory in Nha Be District.
Our distribution network has covered the city. We'll open soon a store to sell all kinds of poultry meat, 18 types of product in all, including chicken. But the main products are duck meat. Meat will be vacuum-packed to be fresh longer. We'll use newly-designed packs to avoid copycat ones like those we had to deal with in the past.