The number of road accidents fell though there were more traffic jams in Ho Chi Minh City in September, which was designated as "traffic safety month."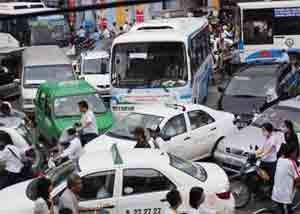 A traffic jam in Ho Chi Minh City
Only 84 accidents were recorded during the month, a decrease of 33 percent from the same period last year and 23 percent from July, the city traffic police reported.

There were 72 deaths, 28 percent down year-on-year and 18 percent down month-on-month.

The number of injuries was down 52 percent and 12.5 percent.

But congestion on the roads was much worse. The number of traffic jams that lasted more than half an hour went up by four and two and half times.