City Party Chief Le Thanh Hai yesterday unveiled plans for a 100 hectare Sai Gon - Gia Dinh monument, consisting of five main works depicting and commemorating those who lost their lives during the war .
Ho Chi Minh City leaders and military officials paid a New Years visit to the Gia Dinh Temple in the Cu Chi District of Ho Chi Minh City on Wednesday.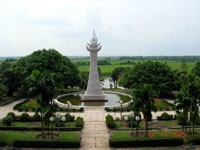 Ben Duoc memorial in Cu Chi District
HCMC Party Chief recalled the heroic struggle of soldiers and local people during the war and was joined by approximately 1,000 visitors in paying tribute to those martyrs and heroes who sacrificed their lives for the nation's independence.
Former PM Phan Van Khai asked the management board to finish the plans swiftly in order for them to be submitted to the council and subsequently assessed for approval as soon as possible.