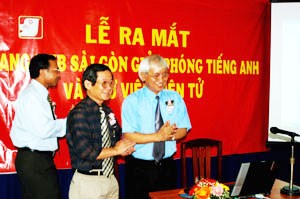 Mr. Phan Xuan Bien (R) launches the SGGP online English edition (Photo: TB)
The Sai Gon Giai Phong newspaper officially launched its online English edition on May 5, 2006, coinciding with the 31st anniversary of the newspaper, an organ of the Ho Chi Minh City Party Committee.
Mr. Phan Xuan Bien, chief of the Ho Chi Minh City Party Committee's Ideology and Cultural Board, pressed the button to put this English edition online.
He said the newspaper has made substantial efforts for the development of the city for the past 31years, and wished further success for the newspaper, as well as the English edition in the new period of development and integration.
"I am very happy to witness the launch of the website. I think the edition will play an important role in informing the world of changes now going on in Viet Nam.
"We expect the edition to act as a bridge between Viet Nam and the international community," he said.
In fact, the trial edition was put online in January this year. It includes more than 30 sections covering a wide range of fields like society, politics, economy, business in general, finance and banking, law, science, education, health, tourism, traveling, sports, entertainment, culture, arts, lifestyle and international news.
The edition is available at www.saigon-gpdaily.com.vn, www.sggpnews.org.vn, or www.saigongiaiphong.com.vn.
The newspaper's management is welcoming opinions from the public for the edition within one month as of the launching ceremony. Readers can send emails of opinions to sgdaily@sggp.org.vn.
Addressing the ceremony, Sai Gon Giai Phong Editor-in-Chief Duong Trong Dat said, "We have made a lot of efforts to set up this new edition."
"The main goal is to inform the international community of a developing Viet Nam and its efforts to integrate into the world economy, and add much more diplomatic information."
"And now, we officially start the English online edition. Also this year, we will publish a daily every afternoon, and a finance and investment magazine."
Deputy Editor-in-Chief Hoang Van Khang, who is in charge of the online English edition, said, "Publishing the edition is a desire of the entire Sai Gon Giai Phong newspaper."
"The new edition is in English, so we have to follow international journalism criteria. Besides, we always try to diversify contents of the edition, and do not forget to include columns dedicated to foreign readers. We expect the publication would draw more foreigners to Viet Nam."
Among participants at the ceremony were Mr. Tan Xuan Vu, deputy director of the Ho Chi Minh City Foreign Affairs Office, representatives of the Ho Chi Minh City Department of Culture and Information, and the Ho Chi Minh City General Sciences Library.
Also at the ceremony, the newspaper officially launched its online library. Editor-in-Chief Duong Trong Dat announced the availability of the e-library, which shortens the distance between the readers and the newspaper.