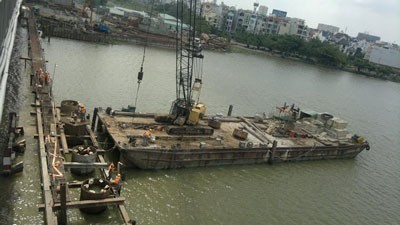 Saigon Bridge 2 under construction
During a survey of major traffic construction projects on February 18, Tat Thanh Cang, director of the City Department of Transport and Le Vu Hoang, director-general of Infrastructure Investment Joint Stock Company, confirmed that Saigon Bridge No.2 would be complete by end of this year.
Constructions of all the main bridge foundation bases are already complete.
In addition, the building team of GS Engineering & Construction Corporation has already finished 55 percent of the project.
At present, there is pressure to complete the 7.4 kilometre stretch cutting across Go Vap, Binh Thanh and Thu Duc Districts, so as to ease areas under heavy traffic.

The new Saigon Bridge 2 will be the same length as the existing Saigon Bridge--which is 987.32 meters long and 23.5 meters wide. The new bridge will be able to withstand a 7 magnitude earthquake, according to the MSK-64 Seismic Scale.

The project also includes a 350 meter long approach ramp from Binh Thanh District and another 117 metre long approach ramp from District 2.