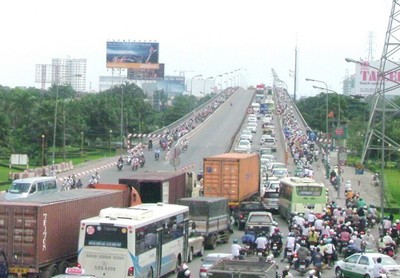 Traffic jam on Saigon Bridge. (Photo: TT)
The Saigon Bridge, built 48 years ago, is in serious need of upgrades though it continues to carry tens of thousands of four-wheel vehicles and hundreds of thousands of motorbikes a day.
The bridge has shown signs of decay since the beginning of this year, the most serious of which was a large pot-hole on its surface observed October 1.
Vehicles, however, continue to cross the bridge daily from the inner area of the city to districts 2, 9, and Thu Duc, as well as to the eastern, central and northern provinces.
Authorities have struggled to manage traffic in the area and have failed to decrease vehicle density on the bridge.
In addition, trucks and container trucks often find themselves stuck on the bridge at peak times, which has only worsened the condition of the structure, said Vu Tien Dat, deputy director of the HCMC Bridge and Ferry Construction Management Co.
The Urban Traffic Management Division No.2 and Freyssinet Co. have carried out an inspection of the bridge and announced plans to repair it next year.
"We should repair it before it suffers more serious damage," said Vu Kien Thiet, director of the division.
Traffic experts said another bridge should be built to ease the pressure on the structure.
Nguyen Thanh Thai, general director of Phu My Bridge BOT JSC, which the city municipal committee entrusted to build the Saigon 2 Bridge, said construction was expected to start by the end of this year and would finish in the next two and a half years.
The Phu My and Thu Thiem bridges were also built to take the burden off the Saigon Bridge but have failed to solve the problem.
Phu My Bridge BOT Co. said it would allow trucks to travel over the Phu My Bridge by the middle of next month after the Ky Ha 1 and Ky Ha 4 bridges were repaired. Currently, trucks are not allowed to pass over the bridge.
Meanwhile, the Management Board of the East-West Highway and HCMC Water Environment Projects said it would finish the section which connects Thu Thiem Bridge and Luong Dinh Cua Street by April next year.
Trucks could cross Thu Thiem Bridge by that time, it said.
The Saigon Bridge was designed by Johnson, Drake and Piper Co. The 19.6 meter-wide and 989.12 meter-long bridge was built in 1959 and completed in April, 1961. It was expanded to 24 meters wide at a cost of 54 million FRF sourced from French ODA in June, 1998, and was finished two years later.