Saigon Port in Ho Chi Minh City handled the first cargo shipments of the New Year on Sunday under the supervision of CEO Le Cong Minh.
He also launched an emulation movement among Saigon Port workers and employees for year 2012.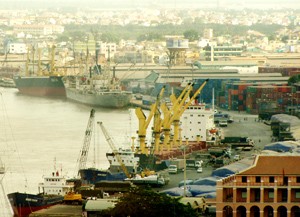 File photo of Saigon Port (Photo: Khanh Van)
Then, with New Year gifts, he came to visit the captain and sailors of the Fortune Sreighter ship on berth for imports unloading and exports loading at the port.
In the first day of the new year, 275 containers of imports were unloaded from the ship and 260 containers of exports were loaded onto her.
Saigon Port expects to handle 9.5 million tons of cargo this year, lower than its performance of 10.2 million tons of cargo last year.