Saigon South, the new urban area in Ho Chi Minh City, has been selected for the 'Global Awards for Excellence', for its unique plan and design and for its efforts to improve community development.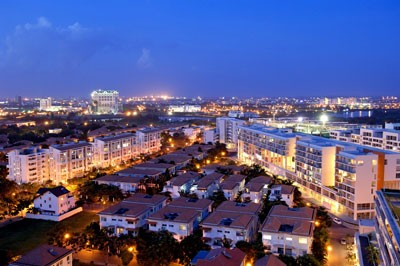 A view of Saigon South, the new urban area in Ho Chi Minh City (Photo: SGGP)
Saigon South is an investment project of Phu My Hung Joint Venture Company and is among the outstanding projects selected for 'Global Awards for Excellence' at the Fall Meeting of the Urban Land Institute (ULI) hosted in the US recently.
Two decades ago, construction of the 433 hectare Saigon South kicked off in Nha Be District. At that time, Nha Be was just a swamp area with thick forest.
The construction of Tan Thuan Export Processing Zone, Hiep Phuoc Thermal Plant, Hiep Phuoc Port, Nguyen Van Linh Highway and Phu My Hung New Urban Area has transformed the entire swamp into an urban jungle.
The once swampland has now become highly valuable, where investors seek lucrative opportunities, successful people look for a good living environment and workers find stable employment.
Saigon South is a very successful project created by the State and Taiwanese CT & D Group, which not only meets urban civilization needs but also boosts long-term benefits in the Asian region.
ULI began the Global Awards for Excellence program in 1979 with the objective of recognizing truly superior development efforts. Jury members of the awards come from different nations and territories and diverse fields like real estate, planning, design and community development.