A tourist train will begin plying between Ho Chi Minh City and Phan Thiet every day on April 29, 2006, one day before the Liberation Day and International Labor Day holidays.
All carriages are new, heat- and noise-insulated. They will offer much convenience, and English-speaking train attendants will serve tour goers, according to the Saigon Railway Passenger Transport Company. 
The train will depart Saigon Station in Ho Chi Minh City at 7:30 am and arrive at Phan Thiet Station – four hours to pass about 200 kilometers. It will leave the resort city of Phan Thiet at 1:45 pm.  
The soft-seat fare is VND60,000 (US$3.75) and the hard-seat fare is VND50,000 (US$3.15). A 20% discount will be available for all passengers and 30% for tour operators in the first two months of service. As of April 3, tickets will be sold at Saigon Station, 1 Nguyen Thong Street, District 3.
Notably, when visitors arrive at Phan Thiet Station, 20 air-conditioned buses will take them to Ne Cape, an often-visited destination in Phan Thiet City.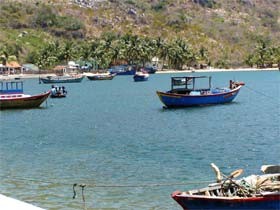 A fishing village in Ne Cape, Phan Thiet City (Photo: Tuong Thuy)