Le Manh Ha, Deputy Chairman of the Ho Chi Minh City People's Committee on Wednesday ordered businesses selling low quality gasoline to be charged for crimes of counterfeiting, as a criminal offense.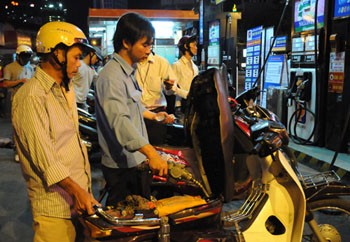 HCMC to step up checks of gasoline at petrol stations (Photo: Thanh Nien)
At a meeting to discuss ways to handle 11 businesses recently detected making substandard gasoline, Mr. Ha instructed that the harshest punishment be implemented.
At the beginning of the meeting, representatives from the Department of Science and Technology said that punishment for fraudulent traders should be based on the Government's Decree 54 which specifies standards and quality control. However, Mr. Ha said it was not tight enough to deter the violators.
Sale of low quality gasoline should be equated as counterfeit trading, hence the above 11 businesses must receive the same penalties as crimes for counterfeiting.
According to the Department of Industry and Trade, besides facing fines, fraudulent traders must also be asked to compensate consumers and their business license should be revoked for a period of 12 months.
In case failing to determine customers, the damages should be transferred into the state budget.
Deputy Chairman Ha instructed the Department of Industry and Trade to work with relevant authorities to punish the 11 businesses with the harshest fines. The department should have plans to periodically examine petrol stations in the city. If the traders are found selling substandard gasoline, their stations must be sealed.
Representatives from the Market Management Division under the Department of Industry and Trade agreed with Ha that only strict handling of fraudulent fuel traders would deter them.