Ten Ho Chi Minh City sanitation workers began on Wednesday a visit to Singapore to learn about the factors behind its success as a very clean and green country in the world.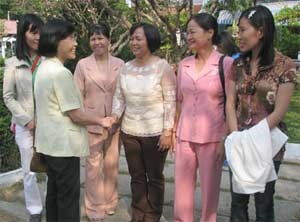 HCMC People's Council Chairwoman Pham Phuong Thao (2nd,L) meets with the sanitation workers before departure.

The trip honors sanitation workers for their outstanding contributions in beautifying the city, Ms. Pham Phuong Thao, Chairwoman of the HCMC People's Council, told the 10 departing workers.

She also expressed her hope that the workers will make use of what they learn in Singapore to improve the city's sanitation work.
During their four-day visit, the workers will come in contact with Singapore's advanced management and the technology used to improve and maintain the environment and its green space.
This is the first time the city has sent sanitation workers to a foreign country for career development.