Scaffold at construction site CR4-1 in Phu My Hung new town, district 7 collapsed early this morning, killing one and injuring 14. One worker is still unaccounted for.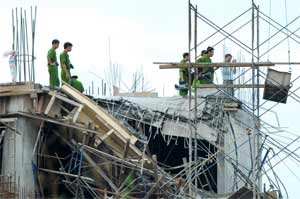 The police carrying out investigations at the collapsed site (Photo: SGGP)
All 16 workers are women and at work when the scaffold collapsed. The concrete floors on the fourth and fifth floors also collapsed.   
The injured workers were quickly transferred to District 7's Medical Center for treatment. Later that morning, the Center said the workers could go home as the received only minor bruises and cuts. 
Two workers were trapped on the floor 4 and had to wait until 6am to be released and were immediately transferred to Trung Vuong Hospital for emergency treatment. The hospital later reported that two were in good condition. 
One worker is still unaccounted for among the rubble, she has yet to be found.  
The CR4-1 building, an area of 6,300 square meters, has been under construction since July. The major investor is Phu My Hung Corporation and the contractor is Vien Dong Construction and Technical Service Co. Ltd.  
After the collapse, the company quickly gave compensation to the victims, including VND5 million ($294) to the family of the dead woman and VND2 million ($118) each to injured workers.