Increasing awareness of road safety with the ultimate goal of reducing the number of traffic accidents in Vietnam is now a pivotal teaching lesson in the 2013-2014 academic school year.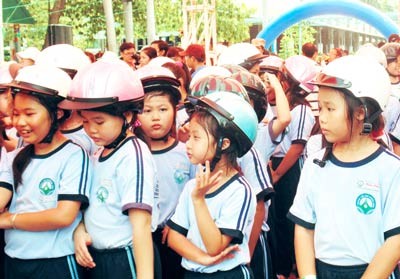 Primary children in HCMC receive helmets through safe traffic programs (Photo: SGGP)
The goal of the campaign is to improve the rate of helmet use among children and also correct parents' misconceptions about helmet use by children. Safe traffic issues will be included in lessons for citizenship education through extra-curricular activities in school.
Schools will organize contests for better understanding of traffic law, provide hooks for students to hang their helmets, and students will in turn help in improving traffic in front of school premises.
Vo Thi Thanh Van, Headmistress of Tran Nhan Ton Primary School in Binh Chanh District in Ho Chi Minh City, said at first teachers were not eager to include safe traffic teaching in their curriculum as they are overloaded with work already, but when the headmistress explained the usefulness of safe traffic teaching and evoked their love for small children, the teachers agreed.
The school has now made hooks to hang students' helmet and hope that children will be tempted to ask their parents to buy similar helmets to their friends, which will cultivate good habits in small child.
Pham Ngoc Lan, Headmaster of Le Van Viet Primary School in District 9, said teachers draw pictures, show video clips, and hold music performances to improve students' awareness of helmets.
The Le Van Viet Primary School is one of the organizers of the festival 'Happiness in Safe Traffic' launched by Asia Injury Prevention Foundation and the Safety Traffic Steering Board in HCMC.
As per statistics of the Safety Traffic Steering Board, in first nine months of the year, only around 48.6 percent children in the age group of 6 to 11 wore helmets.
Therefore, the role of the family is very important in cultivating the safe and good habit of wearing helmets among young children.
Pham Thi Hai, Deputy Director of the Department of Education and Training in the southern province of Dong Nai, said that this year, projects to improve awareness of safe traffic concentrated on parents by installing signboards and issuing leaflets to parents who wait to pick up their children in front of school gates or premises.