A delegation from Ho Chi Minh City led by Nguyen Van Dua, vice standing secretary of the HCMC Party Committee, is visiting Cambodia from November 19-23.
The Vietnamese officials paid a floral tribute to a memorial dedicated to fallen Vietnamese soldiers in Cambodia and visited the headquarters of the Overseas Vietnamese Association and presented gifts there.
The delegation held a working session with Map Sarin, vice secretary of People's Party Central Committee of Cambodia on November 19, and with Say Chum, head of the CPPCC Standing Committee cum First Vice President of the Cambodian Senate, on November 20.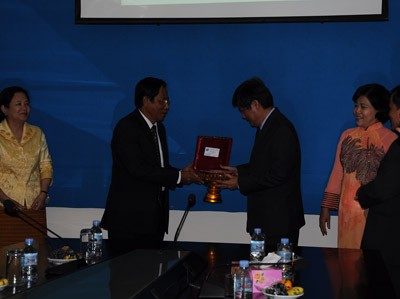 Cap: Nguyen Van Dua (R), vice standing secretary of the HCMC Party Committee, presents souvenirs to Map Sarin, vice secretary of Phnom Penh's People's Party Central Committee
In the capital Phnom Penh, Mr. Dua stated that people of Ho Chi Minh City are glad to see the great achievements of the people of Cambodia in the field of construction and development.
In particular, Cambodia's position is increasing in ASEAN and the international arena as betrayed in the ASEAN Summit hosted by Cambodia, he added.
Nguyen Van Dua confirmed that HCMC leadership will strive to raise relationships and friendship between the two countries as well as between Ho Chi Minh City and Phnom Penh, especially at a time when the two countries mark Vietnam-Cambodia friendship year and the 45th anniversary of establishing diplomatic relations between the two countries.
During the meetings, the two sides shared the same view that the two cities have established in-depth co-operative ties in economics, social issues, health care and education to benefit the two people.
Also during the meetings, the two sides agreed to continue to promote information, communication and education so that the young generation of the two countries will enhance traditional unity between the two nations which has been cultivated by previous generations who did not regret giving blood.
The two sides reviewed the ongoing cooperation and exchanges between the two Parties and states and particularly those between Ho Chi Minh City and Phnom Penh. They agreed that such initiatives spanning economics, society, health care, and education have delivered mutual benefits.
On November 20, the delegation also paid tribute at a monument commemorating volunteer Vietnamese soldiers and presented US$3,000 to the Overseas Vietnamese Federation in Cambodia.
They worked with the leaders of Battambong Province and attended a trade, investment, and tourism promotion conference between six north-western Cambodian provinces and HCMC that attracted nearly 200 Vietnamese enterprises and 120 Cambodian enterprises on November 21.
Until October 2012, HCMC businesses had invested in 41 projects in Cambodia with a total investment capital of more than US$313 million, while the two-way trade turnover continued to increase year-after-year at an average rate of 40 percent.