Many bridges in Ho Chi Minh City are now quite old with low clearance space under them to allow maneuverability for increasing waterway traffic that worsens during high tide with many boats getting stuck in such a confined space.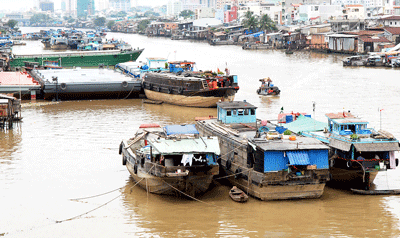 Boats, barges anchored in Kenh Te Canal cause heavy waterway congestion (Photo: SGGP)
The River Management Board under the Department of Traffic said that the City has around 40 old bridges that were built tens years ago and have very low clearance space, such as the Ba Hom, Phuoc Long, Rach Tra, Ong Dau, Xay Dung, Do, Kieu, Thi Nghe, Tu Dinh, Da Khoa, Rach Dia, Phuoc Loc and Rach Tom Bridges.
Among these, the Binh Loi Bridge that was built by the French in 1902 to connect Binh Thanh and Thu Duc Districts is currently in need of urgent repair.
Pham Xuan Hoang, a staff member of the Binh Loi Bridge management board, said that traffic gridlock occurs daily during rush hours in the morning and the afternoon. Some people even court danger by deliberately taking short-cuts through the railway section to avoid the heavy traffic and put their lives at risk.
The old bridge, which has a 1.8 meter clearance, prevents river traffic from passing when tides are 1.5 meter high, resulting in traffic congestion. Many boats and barges get stuck under it, holding up waterway traffic on the Saigon River, which is a major transport route between Tay Ninh and Binh Duong Provinces.
In the first eight months of the year there have already been 10 cases of boats getting stuck under the bridge. For instance, on July 18, a boat loaded with sand was making its way from HCMC to the southern province of Binh Duong when it got stuck under the bridge, despite the low tide. The old bridge was shaking under the pressure which caused fear of it collapsing on the people. 
More dangerous, on April 15, 2011 a 1,000 ton barge travelling from Binh Duong Province to Nha Be District made the bridge shift around 10cm, before the barge was dragged to safety after four hours.
A similar danger lurks with Thanh Da Bridge. HCMC authorities plan to construct four new bridges in some districts by next year in an effort to improve the City's waterway traffic flow. The Department of Transport had commenced construction of a bridge connecting Thanh Da Peninsula in Binh Thanh District to the City center in early 2011, to replace the current Kinh Bridge that was built before 1975, and is now in a dilapidated and unsafe state, but is an important link route.
The new 700-meter bridge will run parallel with the existing Kinh Bridge, beginning at Xo Viet Nghe Tinh Street and ending at Binh Quoi Street. The project will require a total investment of VND435 billion that will be funded from the HCMC budget.
The bridge construction will be done by the Urban Transport Management Authority 1 under the HCMC Department of Transport and expected to be complete in 28 months.
Deputy Prime Minister Nguyen Xuan Phuc has ordered provincial and municipal people's committees to check river traffic passing under the old bridges, and the departments of transport and the local police have been asked to penalize violators.