The Competition Management Bureau and Sai Gon Giai Phong newspaper's Anti-Counterfeit and Consumer Protection Club will cooperate in efforts to ensure fair trade and protect the rights of consumers.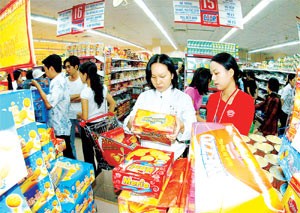 Shoppers at Coop-Mart supermarket in Ho Chi Minh City (Photo: SGGP)
The heads of the two institutions met yesterday to discuss ways to work together on their common agenda.
 
Department head Bach Van Mung said the country's international economic integration has brought many advantages for the country but also posed challenges for relevant agencies to ensure there was no unfair practices in the marketplace.
 
The department is collecting opinions to perfect the Ordinance on Consumer Protection, which will be refined further to formulate the Law on Consumer Protection, Mr. Mung said.
 
He said the department wants to cooperate with Sai Gon Giai Phong through its club to publicize regulations and consumers' rights and responsibilities in the fight against counterfeit and illegal goods.
 
Sai Gon Giai Phong editor-in-chief Tran The Tuyen agreed with Mung's assessment and said it was also a newspaper's duty to keep the public informed as the country moved further in its economic development and global integration process.
 
The cooperation will give the public the opportunity to contribute their views and opinions to the drafting of legal regulations related to protecting their interests, Mr. Tuyen added.
 
Though the club has been in operation for only two years, it has worked effectively. A series of cases exposing the manufacture of and illegal trade in fake commodities have been carried in the newspaper, Mr. Tuyen said.
 
Many complaints from consumers have also been resolved satisfactorily, he noted.