The launching ceremony was attended by 1,000 activists and singers.

Student Nguyen Huong Thanh from HCMC University of Science said that activists in HCMC together with over 7,000 peers nationwide would work to mobilize the community to implement Green Monday project by using public transport means or zero-emissions vehicles, not using plastic products and reducing animal foods in daily meals to ease environmental pollution.
Speaking at the event, Ms. Ly Viet Trung, deputy editor in chief of Sai Gon Giai Phong Newspaper said that the organization board will support businesses in need of accessing technologies and solutions to handle waste from their production activities. Aside from that, they will be assisted to update management policies, technologies, scientific solutions, consumption trend and technical barriers to catch up with green and sustainable development trend, which has been taking place vigorously in Vietnam and in the world, through Green Businesses Club.

Mr. Nguyen Anh Duc, deputy director general of Saigon Co.op said that the retailer has implemented many activities in response to the Green Consumption Campaign such as making it easy for consumers to identify green products at supermarkets.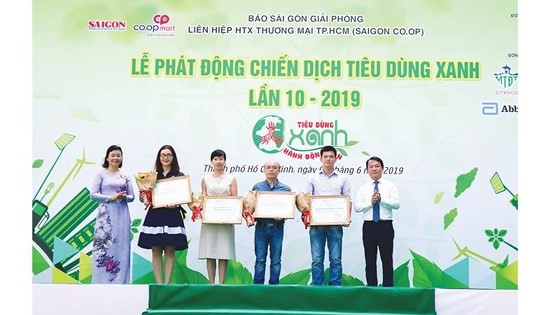 Deputy editor in chief of Sai Gon Giai Phong Newspaper Ms. Ly Viet Trung (L) gives thank you letters to sponsors of the Green Consumption Campaign 2019 (Photo: SGGP)

The supermarket system has also applied promotional and discount programs to encourage consumption of green products, mobilized consumers not to use nylon bags but degradable and reusable products instead.
The Green Consumption Campaign has attracted the participation of many businesses such as Unilever Vietnam International Co., Ltd, Mondelez Kinh Do Vietnam, HCMC Urban Environment Company, 3A Nutrition Company (Abbott) and Vafaco Packing Joint Stock Company.