A charitable program organized by Sai Gon Giai Phong has so far raised VND20 billion (US$1.1 million) for poor and social policy beneficiaries, SGGP announced at a press conference on January 18.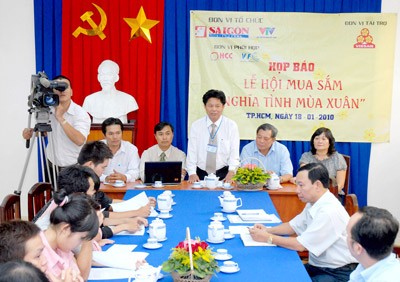 SGGP Editor-in-Chief Tran The Tuyen (standing) speaks at a press conference January 18 in Ho Chi Minh City to introduce the "Nghia tinh mua xuan" shopping fair, part of a charitable program organized by SGGP. (Photo: SGGP)
Nearly 30 local newspaper representatives attended the conference, held at SGGP Newspaper headquarters in Ho Chi Minh City.
It was also announced at the press briefing that the ongoing program will include a shopping fair titled "Nghia tinh mua xuan" (Sentimental Attachment to Spring) from January 28-30 at the Ho Chi Minh City Labor Culture Palace, District 1 where businesses will sell products to benefit the charity fund.
SGGP is coordinating with Vietnam Television and the HCMC Labor Culture Palace to organize the event, which is intended to raise funds for the needy ahead of the Tet (lunar New Year) holiday in February.
The city's leading food producer Vissan Company has donated VND500 million ($26,000) and a stall at the fair; the Phuong Trang Motor Sales Company has donated VND100 million ($5,200); and the Anh Luan Real Estate Company has donated VND360 million ($189,000).
In addition, the Trust Bank has donated 3,000 wheelchairs and 1 million notebooks, worth VND16.5 billion (UD$868,000).
SGGP is grateful for all donations and hopes to continue receiving contributions from individuals and organizations until Tet.
To make a donation, please contact Sai Gon Giai Phong at 23 Phung Hung Street, District 5; Tel: 3.9294.092, 3.9294.093, 3.9294.094; Fax: (08) 3.9294.083.