The 'Ship for South East Asia Youth Program' anchored at Saigon Port in Ho Chi Minh City on November 9, bringing on board 329 youth representatives from ten Southeast Asian Countries and from Japan on a four-day tour of Vietnam.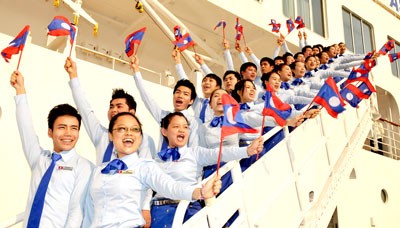 SSEAYP 2012 representatives arrive in HCMC on November 9 (Photo: SGGP)
SSEAYP chose Vietnam as its first destination for its 39th journey. Vietnam is being represented aboard the ship by 29 youth who under the theme 'Sea and Island' will help raise a better perspective and image of the beautiful seas and rich islands of Vietnam.
At a welcome ceremony to receive the ship, Toshio Kuzuma, leader of SSEAYP 2012, said that Vietnam has graciously received all the representatives aboard the ship with great warmth and sincerity. 
All the ship's representatives were glad to see the great development and progress in Vietnam and were touched by the friendliness and warm hospitality of the Vietnamese people, he said.
SSEAYP has been organized 39 times, attracting more than 10,000 youth. Each of the representatives is a cultural ambassador of a nation. Via this program, young people of Japan and Southeast Asia can hold exchanges and contribute to a positive and productive cultural growth among their countries.
For the next four days from November 9-12, SSEAYP 2012 representatives will attend cultural exchanges with young people in HCMC, be part of the Home Stay Program with 160 Vietnamese families, and visit interesting locations in the City.