A ship, with a capacity of over 1,000 tons, hit the Muong Chuoi Bridge in Ho Chi Minh City's Nha Be District September 19, damaging a section of the concrete bridge and exposing iron reinforcements.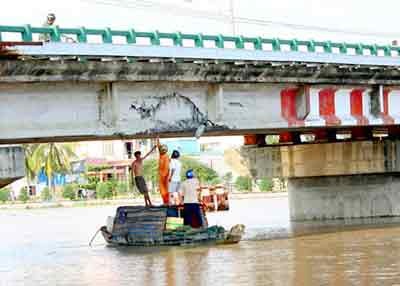 A part of the Muong Chuoi Bridge was damaged by the drifting boat (Photo: SGGP).
The city's Waterway Traffic Police said the ship was anchored near by Binh Khanh port to be fixed. As yesterday was Saturday, many workers were off, with only a few taking care of the ship.
Around noon, the river's level rose and the ship broke free from its moorings. It then drifted freely in Muong Chuoi River and finally hit the bridge.
The bridge suffered some damage and shook on impact.
After the incident, the waterway police and lifeguards used two other boats to pull the drifting vessel.
Nha Be District's Deputy chairman, Bui Hoa An, said the local government will now prohibit five ton vehicles crossing the bridge.
The city's Department of Transport, the Bridge and Ferry Construction Management Company and relevant agencies will together assess how much the bridge has been damaged.
The 200 meter Muong Chuoi Bridge connects the lifeline road Nguyen Binh with industrial parks in Nha Be, as people cross the bridge to ferry goods from parks to ports in District 7.