Some of the flood prevention projects in Ho Chi Minh City have been executed so poorly that several streets in the City continue to flood after the slightest amount of rainfall.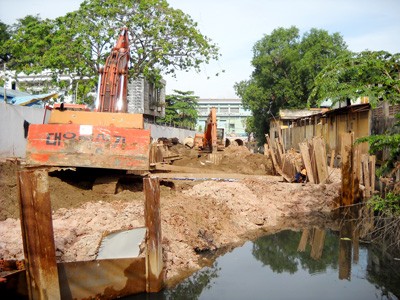 Construction site of project to improve the Tan Hoa-Lo Gom Canal in HCMC (Photo: SGGP)
According to the Steering Center for the Urban Flood Control Program, roads along Tan Hoa-Lo Gom Canal in Districts 11, Tan Phu and Tan Binh are flooded every time it rains.
Hoa Binh, Bau Cat, Dong Den, Truong Cong Dinh and Hoa Binh Streets along the above canal are also regularly inundated soon as it rains, with some parts being submerged under 30-50cm of floodwater in 10-15 hours.
This constant flooding of the above roads is due to poorly executed upgrade tasks at the Tan Hoa-Lo Gom Canal, where box drains were meant to replace the existing drains to allow for the canal water to free flow out.
However, the execution unit has only installed round drains which are not large enough for rainwater to flow out, hence the flooding in surrounding areas and streets. The round drains cannot drain out water efficiently enough.
The Steering Center for the Urban Flood Control Program had met with the investor and execution unit of the project, asking them to resolve the issue by May 20, but there has been no response.
The area around Go Dua flyover in Thu Duc District has also suffered from flood inundation for similar reasons. This area was also due for installation of box drains to replace the old ones in the Cau Mieu Canal. 
The Department of Transport has instructed their inspectors to examine execution units of the above projects and if any unit is found to fault on construction, they will be strictly dealt with.
In necessary cases, the inspectors will report to the HCMC People's Committee, who will suspend execution units from carrying out any future tasks.