VinaCapital Foundation's Heartbeat and VAA The Fund collected US$340,000 at the funds-raising auction of the photos, teddy bear and picture books of famous Vietnamese actors toward life-saving heart operations for poor children with congenital heart defects.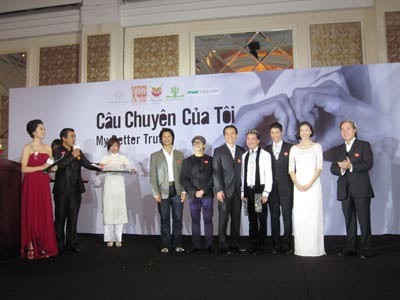 Don Lam (1, R) and actors on the stage before the auction ( Photo: Ngoc Anh)
The black-tie launch party at White Palace on April 13 displayed photos of celebrities, titled "Cau Chuyen Cua Toi" (My Better Truth), such as Ngo Thanh Van, Johnny Tri Nguyen, Chi Bao, Dam Vinh Hung, Quang Dung, Dustin Nguyen, Hong Nhung, Linh Nga, and Thanh Thao, Dan Truong. The photos revealed views of life and dreams of 14 Vietnamese actors.
In addition, benefactors donated to the fund by buying a day with Ngo Thanh Van and Johnny Tri Nguyen; teddy bears and picture book each worth VND500,000, a lucky SIM card; and a special photo "Mau" (Blood) of famous singer Dam Vinh Hung.
Singer Dam Vinh Hung himself introduced about his photos to convince participants to buy them. at last, his special photo Mau was sold at the highest price of US$35,000 at the auction and two benefactors gave US$15,000 to the picture after they failed to win it.
Heartbeat Vietnam, a program of the VinaCapital Foundation (VCF), has provided almost 1,400 life-saving heart operations since 2006 for children across Vietnam, as well as helping to improve cardiac and pediatric care in Vietnam via a telemedicine training series, equipment donations, and support for provincial-level pediatric outreach centers. 
The public exhibition will be displayed from April 25-27 at the Ho Chi Minh City Museum at 65 Ly Tu Trong Street, district 1 and afterwards the photos will be taken to the house of the winning bidders from the auction.

Related article:
Celebrities unite to help kids with heart defects