The progress on some important traffic projects in Ho Chi Minh City have been sluggish due to delays in site clearance, as is the case of the Tan Son-Nhat Binh Loi - outer ring road project and the HCMC-Long Thanh-Dau Giay Highway.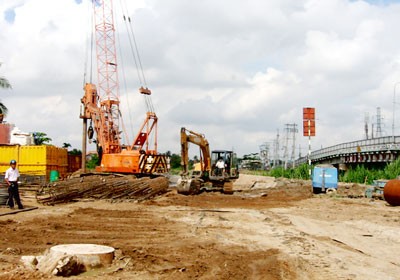 Tan Son Nhat-Binh Loi project is on hold due to site clearance delays (Photo: SGGP)
The nearly 14km Tan Son Nhat-Binh Loi outer ring road, which begins at Truong Son Road in Tan Binh District and ends at Linh Xuan Intersection in Thu Duc District, is being completed in sections due to delays in site clearance, and execution units have to wait for land clearance before resuming work.
Fifty-three households in Go Vap District have not handed over their land for the project. Thu Duc District has 35 households and Tan Binh District has 30 households along Hong Ha Street, who still have to be relocated.
Site clearance delays also obstruct construction in some sections of the 55km HCMC-Long Thanh-Dau Giay Highway route, being implemented in two parts. The first part is a 4km stretch linking the highway to East West Highway, which has yet to take off. The second part too is being hindered by site clearance delays.
Le Manh Hung, director of the HCMC-Long Thanh-Dau Giay project, said that the project's progress has been affected by some households refusing to budge from the site.
According to the HCMC Department of Transport, several projects are lying incomplete due to similar delays.
Of these is also the project to broaden the Hanoi Highway, which runs across Districts 2, 9 and Thu Duc. The site clearance has been completed in District 2 but not in District 9 and parts of Thu Duc District.
Investors of the project, the HCMC Infrastructure Investment Joint Stock Company, said that its completion date may have to be extended until 2014.
At meetings on the progress of these projects, Nguyen Huu Tin, deputy chairman of the HCMC People's Committee, has many times tasked the Transport Department to complete Belt Road No.2 by 2012.
However, the project is still incomplete at two sections, one is the 9km stretch from Rach Chiec 2 Bridge to Go Dua Intersection and the second is the 5.2km stretch from An Lap Crossroad to Nguyen Van Linh Highway.
Another concern is that roads connecting highways have not been properly funded and have little or no further budget. For instance, the HCMC-Trung Luong and East West Highways opened to traffic two years back, but there is no road to link these two highways, as there is no more capital to construct them.
In related news, the HCMC People's Committee has made a list of 14 key traffic projects to call for more foreign investments during the phase 2011-2015.
According to the Department of Transport, the City needs upto VND46.8 trillion (US$2.23 billion) to invest in traffic infrastructure in 2012 alone, double that in 2011. However, it now faces a shortage of VND5.6 trillion.