The City's project to broaden the existing Hanoi Highway, so as to reduce the number of traffic jams and accidents occurring along the northeastern gateway of the city, is currently facing setbacks and hindrances by tardy site clearance.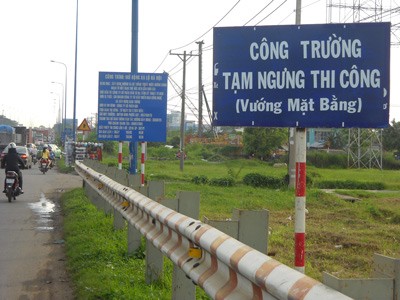 A signboard announces temporary halt of the Hanoi Highway project in Thu Duc District of HCMC (Photo: SGGP)
The Hanoi Highway broadening project will receive investments from the HCMC Technology Infrastructure Investment Company of a total VND8,887 billion (US$423 million) under the BOT method. The city is responsible for site clearance along the route in Districts 2, 9, Thu Duc and Di An Town in Binh Duong Province.

The broadening of the 16km highway route is expected to complete by this year. However, it is being perfunctorily implemented in sections only, due to slow site clearance.

According to the Department of Transport, the sections from Saigon Bridge to Cat Lai Intersection and from Rach Chiec Bridge to Thu Duc Crossroad have been completed already.

The stretch from Thu Duc Crossroad to the intersection in front of the National University began last July but got stuck due to site clearance. The same situation occurs along the stretch from the university to Tan Van Crossroad.

Nguyen Mai Bao Tram, from the HCMC Technology Infrastructure Investment Company, said contractors are broadening the road in those sections where land has already been cleared. They now have to wait for sections where site clearance is still in process.

Nguyen Quang Phuoc, head of the Compensation and Site Clearance Steering Board in Thu Duc District, said that site clearance for the highway project has been planned in two phases.

In the first phase, 85 percent of the households have relocated. Now they will try to move the remaining households by August 30 as asked by the People's Committee of HCMC. In the second phase, the project will be entirely complete by the end of this year.

Meanwhile, the Steering Board for Compensation and Site Clearance in District 9 said that only 110 of the 714 households have been moved out. Others have refused to do so, on account of low compensation offers. Another reason they gave is that the new resettlement area is too far from their current accommodation.

Local authorities have proposed to the HCMC People's Committee to increase compensation rates and mobilize residents to relocate as soon as possible.