The Ho Chi Minh City Youth Union has selected six youth from hundreds of entries to be awarded 'Young Citizens of City 2012'.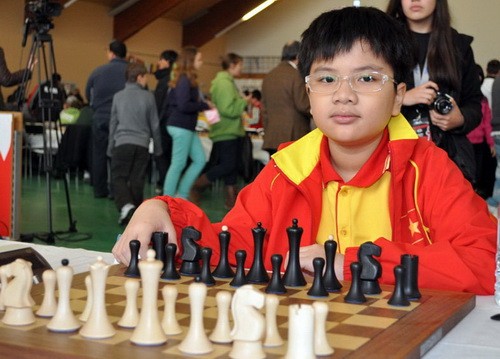 Nguyen Anh Khoi, one of selected person for 'Young Citizens of City 2012' Award
This new award aims to honor young people who display exemplary character or who contribute towards the development of the City. They can come from any walk of life but must be able to demonstrate qualities that win the hearts of people in their community.
The six winners include Nguyen Ba Hai, head of faculty at the University of Technical Education in Ho Chi Minh City, who   completed doctoral thesis in Korea at the age of 28 and awarded a prize for best doctoral topic for graduation.
Returning back to the country and continuing teaching at the university, he established a US$1 course to help students' access knowledge of remote control devices, thus inspiring students' passion and creativity.
Tran Trung Hung is a young policeman who has acquired a good deal of merit through apprehending criminals and  providing a safer environment for fellow citizens. He is willing to take part in all cases despite holidays or off days.
Ten-year-old chess player Nguyen Anh Khoi was Vietnam's youngest player who was bestowed a FIDE master at the age of eight and won the World Youth Chess Championship in Maribor last November. Studying chess in only two years, he has surprised people by capturing six gold medals in individual and team categories at the South-East Asia Championship Competition and many other international prizes.
Three others are Nguyen Vu Nhan from Ben Thanh Rubber Company who has made up many initiatives to save tens of billions of dong for the company; Huynh Van Trang, a young soldier in Sinh Ton Island in Truong Sa Archipelago and nurse Tran Thi Phuong Thuy who is concerned with better treatment for people with mental diseases.
Seven young people were also honored, namely, Tran Duy Khoi, Nguyen Thi Thu Ngan, Nguyen Mai Phuong, Huynh Thanh Thao, Hoang Minh Thong, Bach Thanh Thu and Bui Van The Vinh. These outstanding young citizens are doing exceptional work or study in Information Technology (IT); the police force; sports; culture and the arts; and social activities.
They will be honored at an awards ceremony on January 1, 2013.