District 8 must remove nearly 6,500 shanties situated along its canals by 2010. However, there have been a few hiccups along the way. Those in charge worry that financial difficulties will prevent the city from fully funding relocation and resettlement.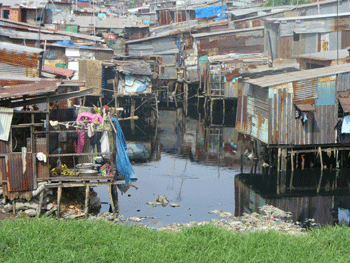 Thousand houses locate near canals and shanties where bad condition and rampant disease threatens the health of dwellers in District 8 (Photo:U.Phuong)
The District 8 People's Committee reported that the District's 45 km of worth of canals are divided into segments which could turn the District into the city's biggest slum.
There are 10,615 houses locate near canals and 16,000 shanties where the unsanitary conditions and rampant disease threatens the health of residents.
Although district administrators have followed a plan to improve the area around the canals for two years, it has progressed very slowly due to a lack of land for resettlement, according to the District.
The district has considerable unused land, but it is zoned for warehouses and cannot be used for resettlement.
To implement the program, some 5,000 houses must be available for resettlement. At the moment the district can provide only 1,400-1,600 houses.
Because of a lack of land, site clearance has taken longer than expected, said Mr. Nguyen Tin Trung, the general director of Saigon Real Estate Corp, at a meeting with the Department of Construction. Moreover, low-income residence cannot afford the new houses.
Due to interest rate increases and limited credit, it's hard to call for tax revenue from business, added Mr. Trung.
It's impossible for enterprise to undertake the work while interest rates remain high and the construction material market is affected by price bubbles, said Mr. Tran Manh Chau, general director of South Saigon Development Corporation.
The government needs more flexibility from the banks on loans and will call for a tax increase.
The Department of Finance should advance a sum as well as petitioned the city for approval so that areas along Doi and Tau Hu canals now used warehouses can be used for resettlement, said Mr. Nguyen Thanh Chung, deputy chairman of the District 8 People's Committee.
Related article:
City to Clear Slums in District 8