Many of the smaller manufacturing businesses in Ho Chi Minh City find it difficult to distribute their products because of a poorly developed distribution network, high distribution costs and limited advertising budget.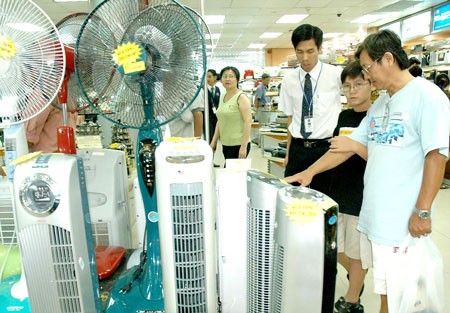 Consumers at an electronics shopping center in HCMC (Photo: SGGP)
Nguyen Nguyen Phuong, head of the Trade Management Division under the HCMC Department of Industry and Trade, said there are far too many small production units in the City, making it difficult for the distribution system to cater to all of them.
Though the City has ten million residents there are only 27 commercial centers, 163 supermarkets, 500 convenience stores and 243 markets.
To cater to the City's vast expanding population, at least 100 commercial centers, 1,000 supermarkets and 10,000 convenience stores are needed, said Phuong.
As a result, small manufacturing units find it hard to distribute their products and even more difficult to sell their goods through channels like supermarkets and trade centers. Distributors have the upper hand here, rather than manufacturers.
Dang Thanh Buu, director of Sa Giang Company in Dong Thap Province, said that cost of taking goods to supermarkets is very high, adding upto 23 percent on the total cost. This is a major obstacle for smaller manufacturers.
Pham Van Thuan, deputy director general of Seafood Company 584 Nha Trang, said that fish sauce produced by his company has been recognized as a high quality product for 13 years. However the company still meets with difficulties while distributing goods as they do not have sufficient funds for advertising.
Pham Thi Huan, director of Ba Huan Company, suggested that authorized organs must help smaller manufacturers to find distributors and also assist them in introducing their products at trade fairs, so as to reach a broader market.